Smart-ID is one of the most beloved brands in Estonia
16.06.2022
Smart-ID is one of the most beloved brands in Estonia, placed 5th-6th among 160 well-known trademarks, according to a recent survey from Kantar Emor.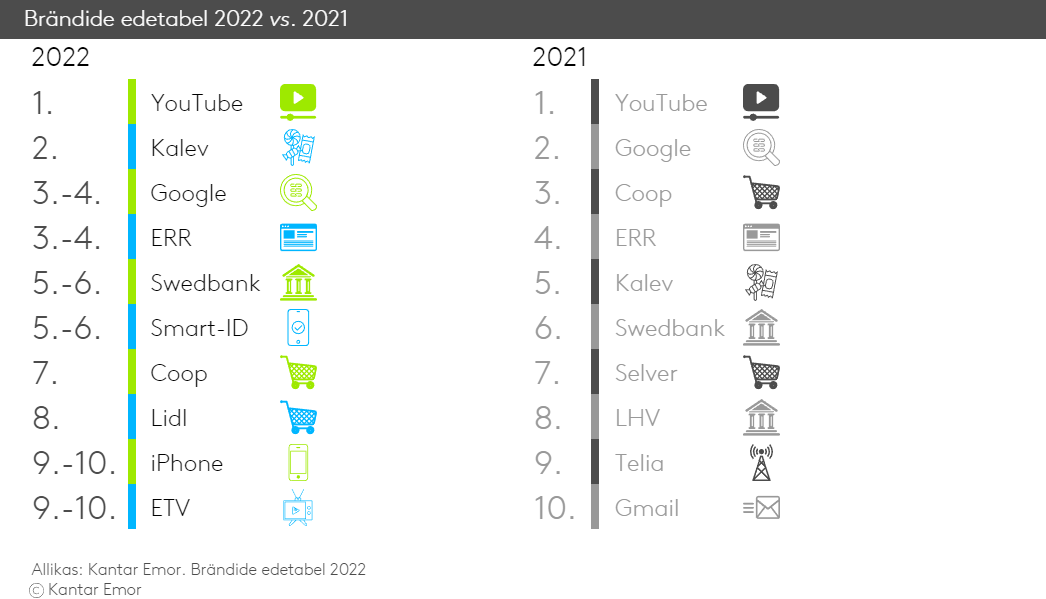 Smart-ID while being on the market only for 5 years was found to be ranked 5th-6th after such brand names like YouTube, Kalev, Google and ERR (Estonian Public Broadcasting) where the difference amongst the 3rd and 6th place was less than 1%. Smart-ID was included in the survey for the first time.
"We are amazed and very excited about the results of the survey. Never in our wildest dreams did we expect to hit TOP 10 of Estonian most favourable brands. Mobile-ID's place in TOP 50 is also very nice surprise. This shows how little we know about our own products perception by market – but we thank all respondents for teaching us that you know us, pay attention and value our efforts in providing world class services," said Kalev Pihl, CEO of SK ID Solutions.
Smart-ID is very gender-neutral brand – there is almost no difference in the recognition by female or male respondents and this is not at all so common. By age, the liking of Smart-ID is clearly the highest in the segment of 25–34-year-olds, where the Smart-ID is second only to YouTube.
Looking at the selection of brands by each respondent, Smart-ID is a brand with a broad preference. In this respect, Smart-ID ranks even higher, 3rd in intense competition, just ahead of YouTube and just slightly ahead of National Broadcasting ETV.
Also SK ID Solutions' Mobile-ID came to a very good 44th-45th place together with SEB Bank.
"We are committed focusing on the quality of our services and we do not separately prioritize brand recognition. This has brought us success so far and at least for now, contrary to popular saying "what brought us here does not take us further", we stick to the plan that a known brand is just a reflection of job well done on the service content," said Kalev Pihl.
The survey Estonian Brand Ranking 2022 was carried out in May 2022 among 1065 Estonians aged 15-74 by Kantar Emor. The respondents evaluated 160 well-known local and international brands.