Mobile-ID among TOP 50 brands in Estonia
20.06.2022
According to Kantar Emor's annual brand survey, Mobile-ID belongs to the 50 most favourable brands in Estonia.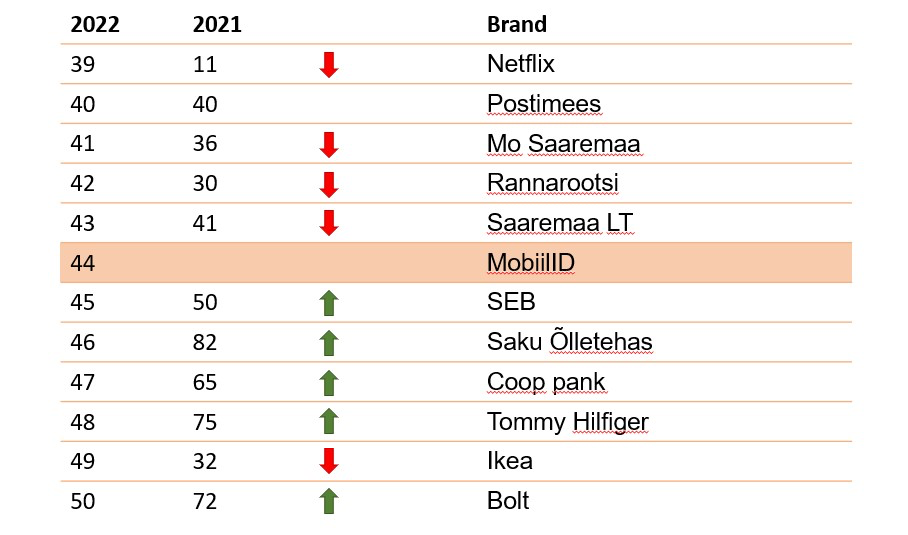 SK ID Solutions' Mobile-ID reached a very good 44th-45th place together with SEB Bank and leaving behind some really distinguished international brands like Bolt and Ikea.
"This is a pleasant surprise for us. Mobile-ID as a service has been on the market since 2007 and has enjoyed constant growth and users support, but one thing Mobile-ID never has had is a "branding strategy"– so, well done, Mobile-ID and all our partners, who are daily contributing to it," said Kalev Pihl, CEO of SK ID Solutions.
Survey results show that Mobile-ID is equally loved by people living in big cities, and in countryside. There are no big differences in the liking of Mobile-ID by gender and nationality. The only significant difference is in the results by age groups where Mobile-ID is most liked by people aged 35-74.
Mobile-ID has a new era in front of it starting from 2nd of July thanks to changes, which will hopefully raise number of supporters in months to come. Two biggest changes in the Mobile-ID service will be a fully online application process and possibility for one person to use more than one Mobile-ID.
SK ID Solutions' Smart-ID that was also included in the survey for the first time, was placed 6th right after international brands like YouTube and Swedbank.
The survey Estonian Brand Ranking 2022 was carried out in May 2022 among 1065 Estonians aged 15-74 by Kantar Emor. The respondents evaluated 160 well-known local and international brands.