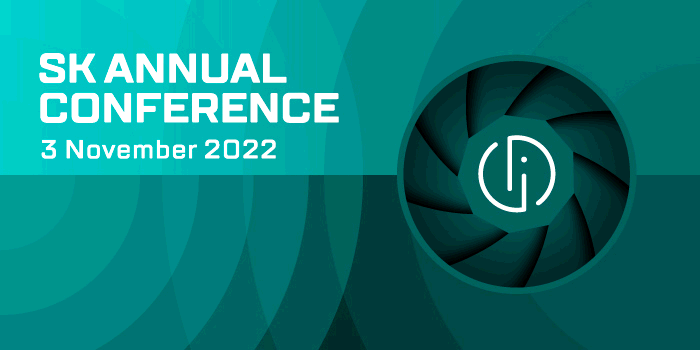 Thank you for participating in the SK Annual Conference 2022!
The 13th SK Annual Conference focused on two major topics. First, our speakers Goda Raibyte, Mairita Luse and Kalev Pihl looked at the ecological footprint of digital services, sustainability and how to recognise and avoid greenwashing.
The second part of the conference day was kicked off with a panel discussion about Smart-ID's first five years, biggest achievements so far, and future opportunities. Head of business services of SK, Piruza Harutjunjan, opened the door to the future of digital Europe and peeked into the limitless opportunities it has in store.
Thank you for taking the time to meet with us at the SK Annual Conference!
Please find the presentations and videos from the agenda below.
Please find the photos of the Annual Conference 2022 here. Photographer: Martin Dremljuga
9:00
Doors open. Registration
9:30

I Session
Opening words - Liisa Lukin, Kalev Pihl
Resilience - Stuart Goldsmith

10:30
Break
10:55

II Session
SK Services Carbon Footprint - Kalev Pihl
Presentation and Video
Sustainability Delusion: Why Do We Need Critical Thinking? - Goda Raibyte
Presentation and Video
What is Greenwashing and How to Avoid It - Mairita Lūse
Presentation and Video
Panel: Ecological Footprint of Digital Solutions - Goda Raibyte, Mairita Lūse, Kalev Pihl
Video

13:00
Lunch
14:00

III Session
Smart-ID 5 Years Back and Forward
Video
Panel: Aivo Kalu, Urmo Keskel, Mart Oruaas, Andres Kütt, Kalevi Tammistu
Moderator Jaan Murumets
Presentation and Video
Limitless Opportunities in Digital Europe - Piruza Harutjunjan
Presentation and Video

15:45
Break
16:15

IV Session
Closing notes and Q&A - Liisa Lukin, Kalev Pihl
Video
Summary of the day - Stuart Goldsmith

17.00
Reception
18.00
Movie "Kalev"