Digi-ID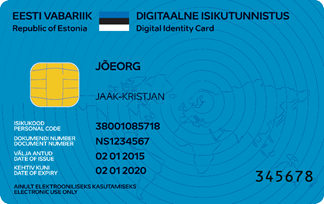 In addition to ID-card certificates, SK is issuing certificates for a digital ID-card (Digi-ID) since 1 October 2010. A digital identity card is a digital document that can be used in an electronic environment for identification purposes and for giving digital signatures. Digi-ID cannot be presented to identify a person.
Applications for documents are processed by the Police and Border Guard Board, who is responsible for verifying correctness of the information provided by the applicant and SK issues electronic certificates to the card.
From 01.12.2014 digi-ID is also issued to e-residents. You will find more information here.
Problems related to digi-ID usage are solved by ID-card helpline that can be reached by calling (+372) 666 8888 (working days from 8:00 – 19:00). Digi-ID certificates can be suspended 24/7 by calling to a suspension line number (+372) 677 3377 or 1777.
The following additional services related to the dig-ID are provided by the PBGB customer service points:
activation of certificates (termination of suspension);
suspension of certificates;
revocation of certificates;
change of PIN codes*
* This additional service does not exist for e-resident's Digi-ID.
For further information about identity documents please visit Police and Border Guard Board website.
If you have any questions you can also visit ID-card Help Centre.
SK's services that enable the use of Digi-ID
are compliant with the eIDAS regulation
and included in the European Trusted List.