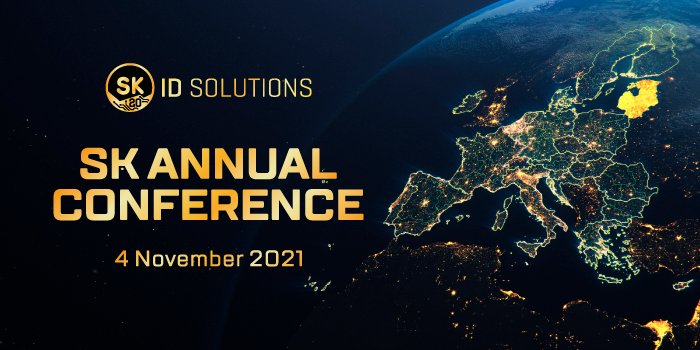 SK Annual Conference 2021
Registration is open
The 12th SK Annual Conference will take place on 4th of November in Apollo Ülemiste, Tallinn.
During this year's conference, we will take a look at the passing year in eID and trust services' landscape, and peek into the future of identity solutions.
The first keynote speaker of the SK Annual Conference 2021 is dr. Urte Neniskyte from Lithuania. As a neuroscientist whose scientific interest and main area of work relates to the interaction of neurons and immune cells in the brain, she will speak about human brain and computer interaction, and also identity.
Our second keynote speaker is Mrs. Zita Zariņa, member of of the Council of Latvijas Banka, from Latvia. Mrs. Zariņa will be speaking about the future of electronic banking, security and authentication.
The traditional conference expo features new services and technology that play key role in the world of authentication.
The summary of the day will be made by award-winning British comic, podcaster and business speaker Stuart Goldsmith. He will also perform in a special stand-up show after the conference.
Please register here.
Preliminary agenda
| | |
| --- | --- |
| 9:00 | Registration and morning coffee |
| 9:45 | Opening Words and Annual Overview of SK ID Solutions |
| 11:30 | Coffee break |
| 12:00 | Future of Electronic Banking - Zita Zariņa, Latvijas Banka |
| 13:00 | Lunch |
| 14:00 | Human Brain and Computer Interaction - dr. Urte Neniskyte, Vilnius University |
| 15:30 | Coffee break |
| 15:45 | State of art: Phishing and countermeasures - Andrew Roberts, TalTech |
| 16:30 | Summary of the Day - Stuart Goldsmith |
| 17:00 | Reception |
| 18:00 | Stand-up show |
Please note that the SK Annual Conference 2021 will take place in line with restrictions on infection safety set by the Estonian government. The conference can be attended only by presenting a valid COVID certificate (vaccination pass, recovery from COVID-19 or a negative test).